SWING    -    JAZZ   -    PARTY
Meet the band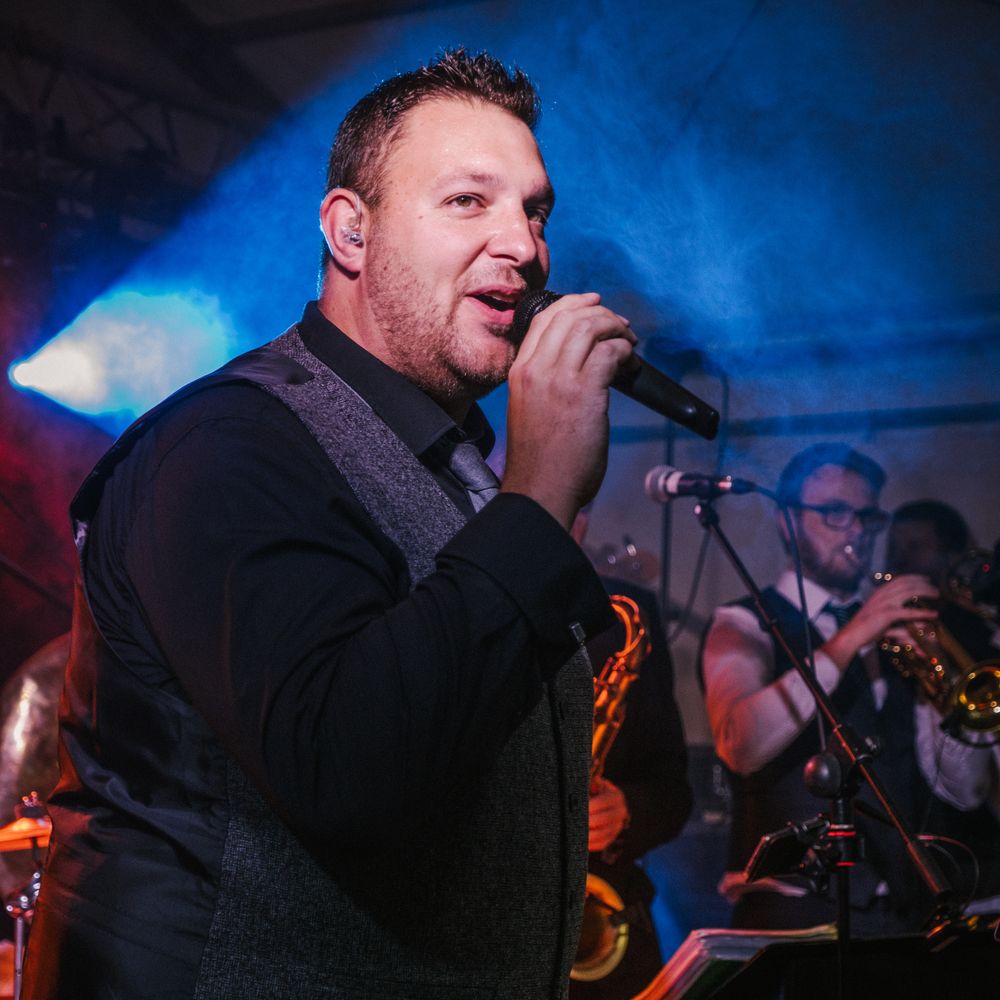 James Billington
Vocals
James is known as one of the top male vocalists throughout the South West particularly in the swing and jazz genre.
He first got into this style of music when he received Robbie Williams' 'Swing When You're Winning' album for Christmas and it opened his eyes to fabulous voices and music within that style.
James has been performing professionally for over 16 years not just including All Jazzed Up but he also sings with some of the other top bands in the region. He can still occasionally be found treading the boards in the odd musical theatre show.
His real passion lies within swing music though and loves seeing how infectious the feel-good factor is within each song.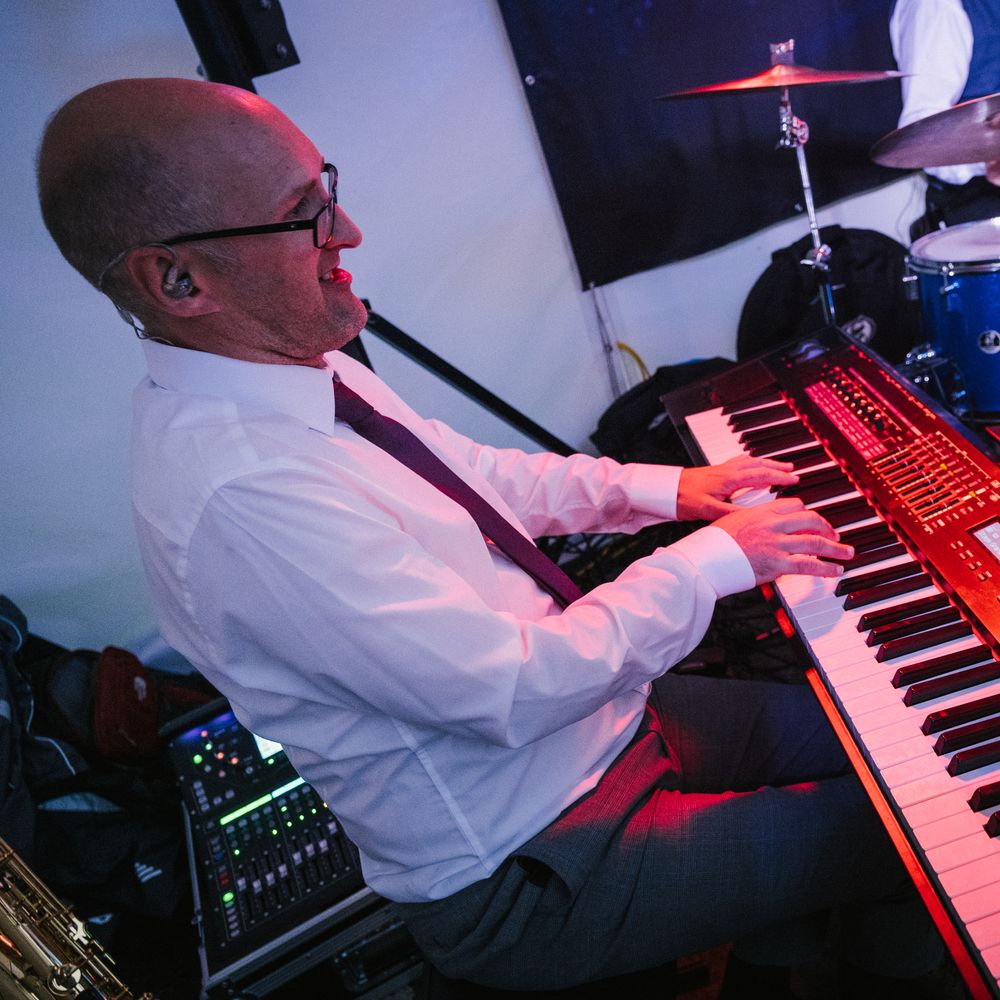 Simon Carter
Keys
Originally from Bristol, Simon started playing the piano at the age of 8 and shortly after added the clarinet and saxophone to his skill set. Whilst studying for his music degree at Cardiff University, Simon began teaching the piano and built up a significant student base there.  
Upon graduating, Simon studied for his PGCE at Bristol University in secondary music before starting a career as a music teacher – something he has done ever since.  
Simon teaches the piano and keyboard in schools and privately and now also gives singing lessons.  
Simon is also well respected in the region for his work in musical theatre, working regularly as a musical director for several companies as well as performing in pit orchestras.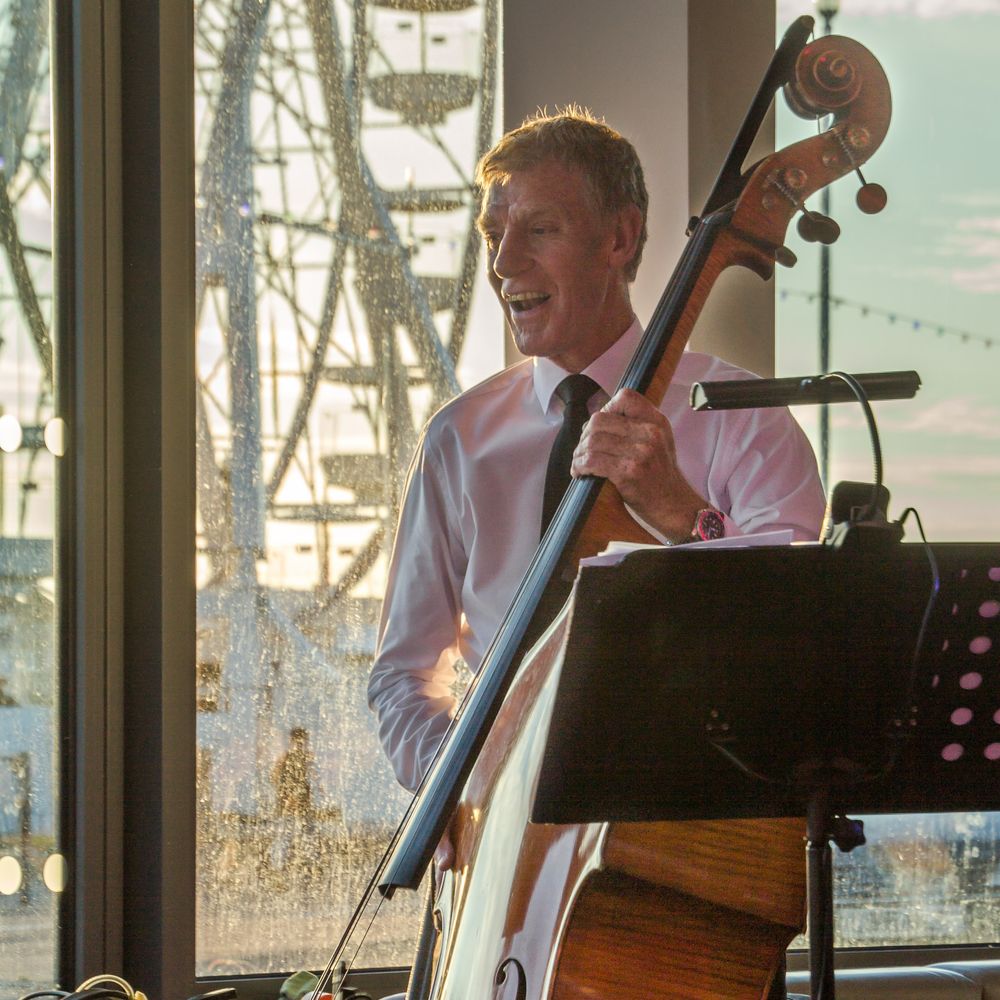 Peter Manfield
Bass
Peter trained at Kneller Hall the Royal Military School of Music to play Tuba, double bass and bass guitar. He then joined his band, The Queens Life Guards - the senior regiment in the Army. Duties included playing for the Queen, Royalty and Heads of State including playing the tuba on horseback!   
Peter has had the privilege of playing at Buckingham Palace, Windsor Castle and Edinburgh in different combos including marching band, mounted band, dance band, brass quintet and string quartets.   
Since moving to Devon, he was in the Devon & Dorsets which became amalgamated and became the Rifles Band and was Band Sergeant Major until leaving in April 2014.   
Peter teaches all brass instruments in local primary and secondary schools. He plays in shows, rock bands, traditional jazz bands, Top Brass - a brass quintet, Lympstone Brass Band and orchestras.   
He loves playing with All Jazzed Up.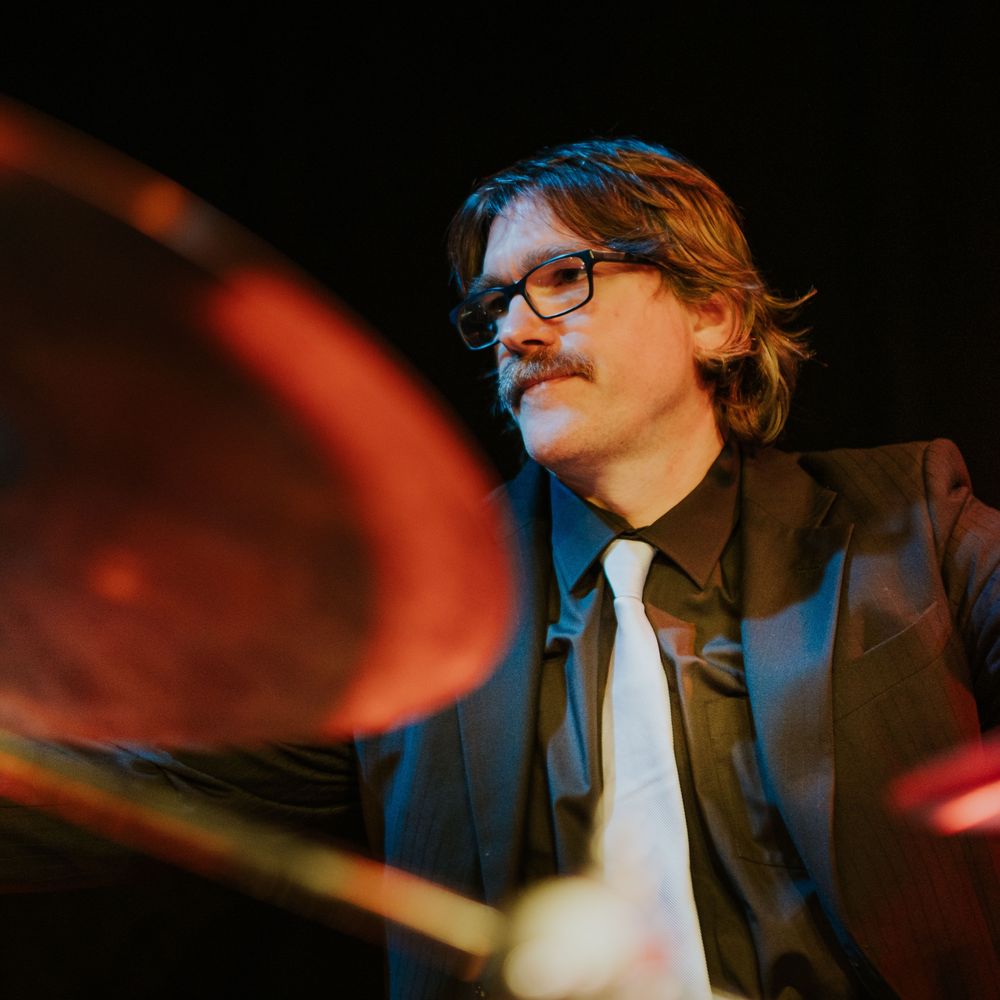 Gary Evans
Drums
Gary is widely regarded as one of the best drummers in the country, especially when it comes to swing and jazz music.
Although he has played on and off with All Jazzed Up for a few years, he officially joined the band in 2019.
Gary is by far the most sought after drummer in the South West of England and can be seen performing regularly with some of the top bands in the region.
One of Gary's top credits is that he was for many years the drummer for the famous Nick Ross Big Band.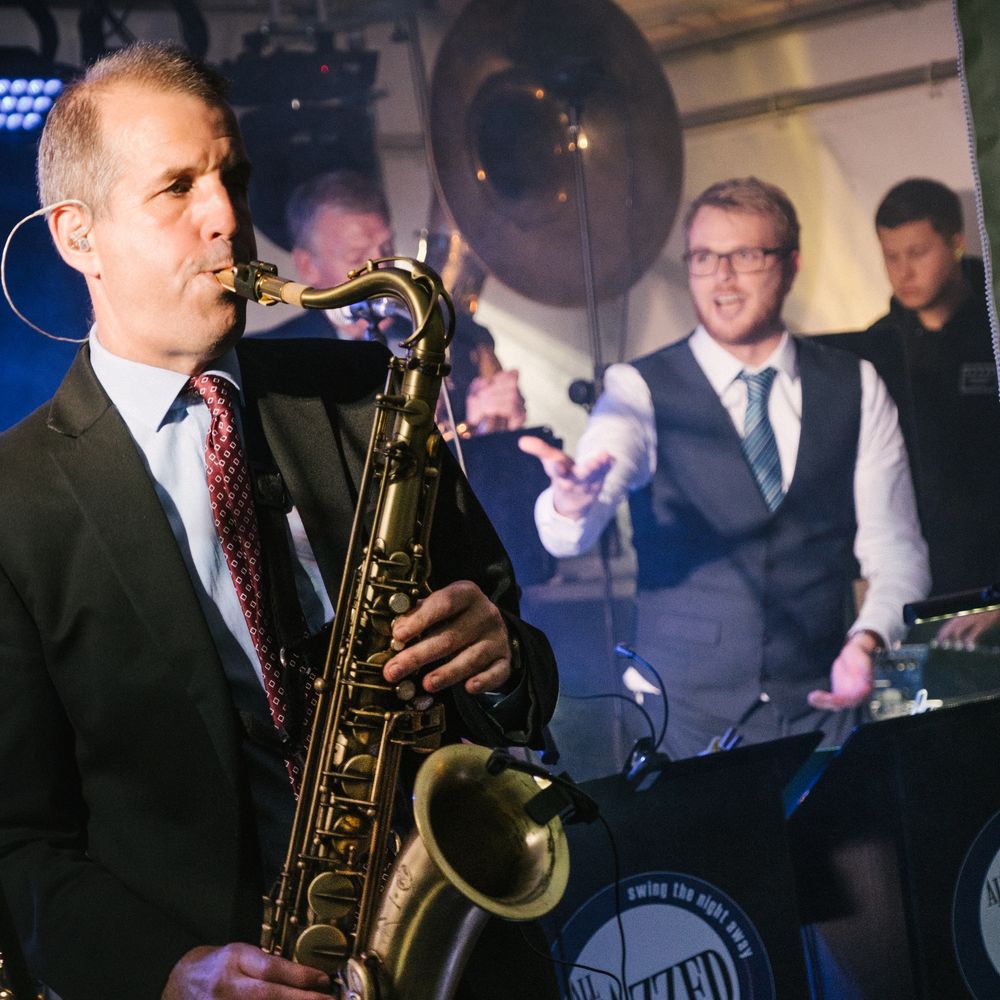 Neil Maya
Saxes/Clarinet
Neil is regarded as being on of the top musicians around and plays in both of our smaller and larger formats of bands although watch out, he can often be found in the middle of the dance floor with his sax!
Neil provides a phenomenal sound for All Jazzed Up on Tenor Sax, Alto Sax and Clarinet. He's also quite proud of his unique backing vocals!
Since moving to Devon in 2001 he has become increasingly busy as a saxophonist playing in many styles including classical and jazz throughout the South West including his own jazz quartet The Neil Maya Quartet.
As well as live performance Neil teaches clarinet, saxophone and improvisation privately He also runs a number of groups including the South Devon Big Band and runs workshops on jazz improvisation including the East Prawle Jazz weekend as well as arranges and composes.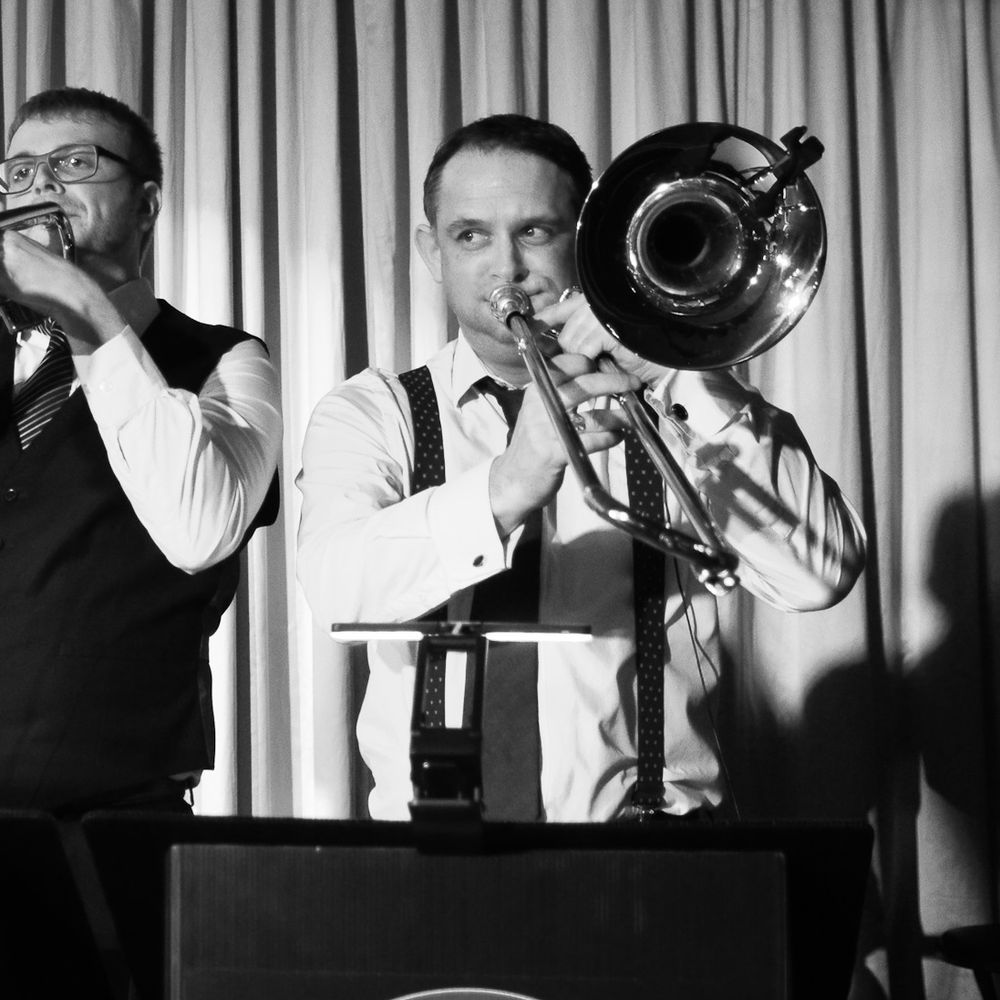 Chris Holland
Trombone
Born and raised in the beautiful Devon town of Sidmouth, Chris has been playing trombone for more years than he cares to mention. Chris works in local government by day but his real love is music. He first learnt trombone under Maurice Beadows for whom he owes a great deal  then progressing to various bands and orchestras. He plays for different groups including a long time association with the Sidmouth Town band, a brass band with which he continues to play with as Principal Trombone. He has been involved in many orchestral concerts and played under many famous conductors with one of his fondest memories playing under the baton of Sir Neville Mariner. 
Chris also also has a love of theatre and has tread the boards many times in both plays and musicals. His knowledge of the stage is considerable as he continues to appear 'in the pit' under the stage in many musicals performed in theatres all over Devon, Dorset and Somerset and occasionally on stage. 
Chris is thrilled to be playing for All Jazzed Up and loves the different music and fun styles encountered during the performances.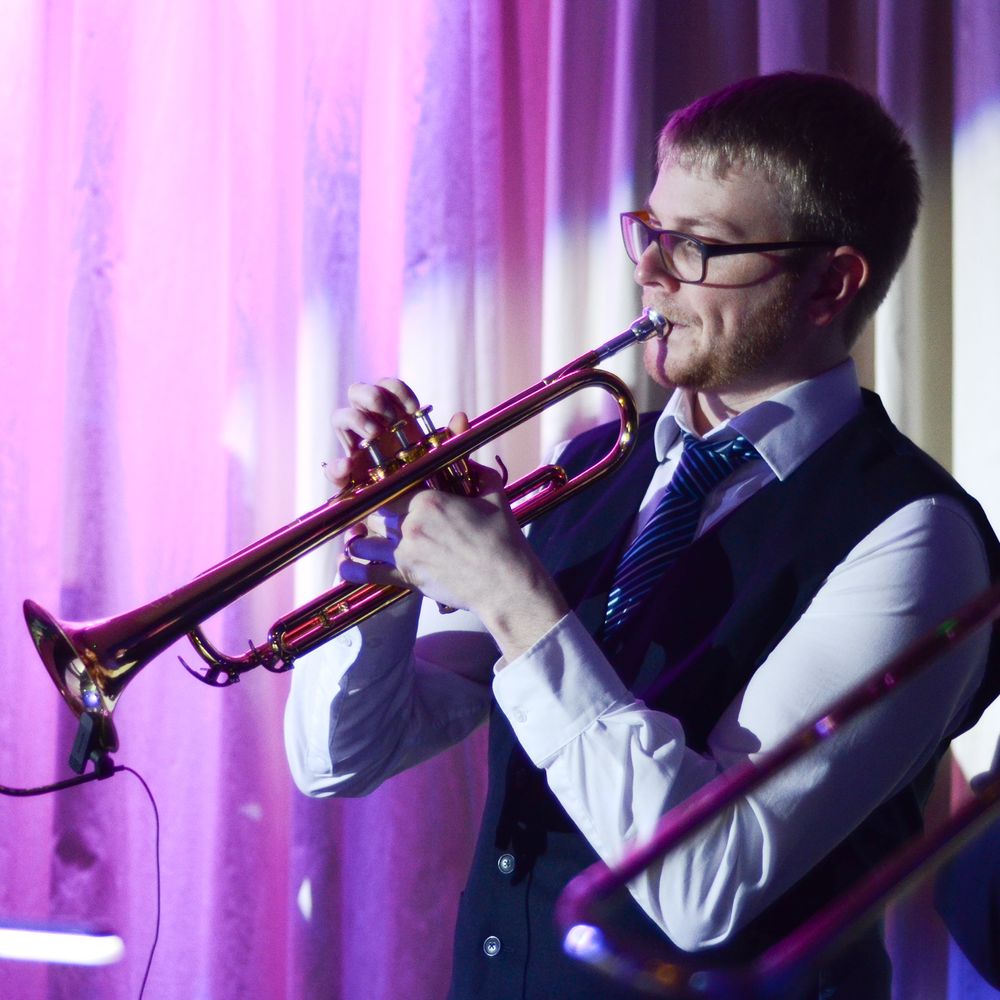 Matt Sherwood
Trumpet
Matt's life always has and continues to revolve around music. His musical journey began aged 7 when he started trumpet lessons at school and began singing in his local church choir, and he has been performing ever since!
Having been deeply involved with musical ensembles at school and throughout his native Hertfordshire County, Matt went on to gain both an Undergraduate and a Masters degree specialising in Music Performance from Canterbury Christ Church University.
Since moving to Devon Matt has joined several ensembles prides himself in performing a huge variety of genres, from Orchestral to Brass Band to Jazz and Pop!
Matt truly lives Music 24/7 as he sells musical instruments by day and spends his evenings at various concerts and rehearsals.